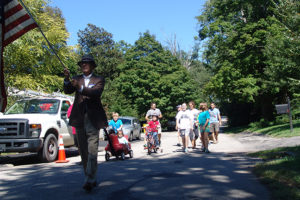 The City of Druid Hills is located in eastern Jefferson County, Kentucky, adjacent to the City of St. Matthews.  It is bounded on the north by Brownsboro Road (U.S. 42) and on the west by Chenoweth Lane (map below).  The City, which is mostly single family homes, has 138 houses, one large church property, and one flour-plex apartment building.  It has been incorporated as a 6th class (Home Rule) city since 1950.  Most residents agree that one of the most loved features of the City is the beautiful tree lined streets.
The City of Druid Hills was developed as a residential subdivision in 1927.  Home construction continued through the 1930s and 40s and into the 1950s.  The original subdivision plat showed 205 lots although many of the 138 homes were built on more than one lot to allow for more space for gardening and planting trees.  The streets of the new subdivision were planted with mainly Pin Oak and Silver Maple as was popular in the late 20s and 30s.
From the Urban and Community Forestry Grant Proposal:
The city is now covered with a mature urban forest canopy of trees ranging in age from 20 to almost 70 years.  In order to protect and preserve its valuable forest canopy, the city adopted a Tree Ordinance in 1992 which was revised in 2001 to create the position of City Arborist and to clarify the Criteria for Approval.  The city has worked extensively with an ISA Certified Arborist  over several years  to maintain and preserve their valuable urban forest canopy.  Trees have been fertilized, pruned, and removed only as necessary to prevent property damage or injury to the residents. 
Rumpke is the new sanitation contractor for the City of Druid Hills.
The Commissioner meeting will be held on Monday October 9, 2023 in the Family Life Center at Broadway Baptist Church. Residents are always welcome to attend.